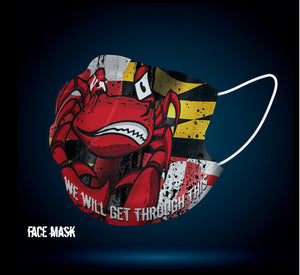 MASKS PURCHASED TODAY WILL TAKE UP TO 5/6 DAYS TO SHIP. WE SHIP AS SOON AS EACH ORDER IS READY.

*****Due to the overwhelming response, we are about 4/5 days out for production. We are moving as fast as possible. Thank you for being patient with us. *****
We are a small St. Mary's County based business dedicated to helping fight this virus. Together we will stand strong and beat this.
**For EVERY purchase, a portion of the funds will be donated to someone in need.**
Message us right away to order and give someone a chance at making it through these tough times.
Custom stitched in Southern MD.
We do our best to make a mask that is unisex and one size fits all. Please be aware it is difficult to fit each and everyone but we do out best!
These face masks contain 2 layers of fabric: a cotton interior and a polyester exterior for healthy wearing. The item is very stretchy and fits most with ease, and can be washed and worn again and again. 

Material details: 
Fabric on Inside: 100% Cotton;
Fabric on outside: 84% Polyester/ 16% spandex exterior.

********Note: Not medical grade.********
********Not comparable to N95 masks.********
This item is sold per piece, not by the pair. Photo does not depict actual mask. Each may vary depending on available materials.  

REFUNDS ARE NOT ACCEPTED. Each mask is individually made to order. We work our hardest to keep quality the best we can. However making such a large amount of masks in our home base, a few bad ones can slip by. We do apologize for this.