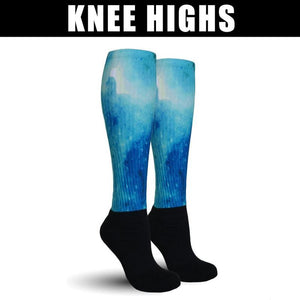 These socks are made from the same material as our Athletic socks. T
he leg holds the vibrant sublimation print while the foot is ultra soft, has a secure ribbing, and a fully cushion base. The socks are thicker than our street-wear style socks. 
 They extend
 just below the knee cap and fit firmly and compressed on the leg.
Foot Material: 90% Cotton, 10% Polyester/Spandex
Leg Material:  95% Polyester, 5%
Rubber
/Spandex.